Wed, 5 November 2014
Barry Kim at the Long House
According to the Hawaii Tourist News "Entertainment" section for the week of July 4, 1974, along with Iva Kinimaka and Na Keonimana, the Hilton Hawaiian Village was also serving up the contemporary sounds of Barry Kim.
Barry Kim's music followed a similar template as other performers of the era – characterized by synthesizers, drum machines, and the rhythms of the disco age. This was not music for the locals. This was music clearly aimed at the tourists, which is why artists like Barry Kim and Iva Kinimaka could survive the lounges and showrooms in Waikiki in this era.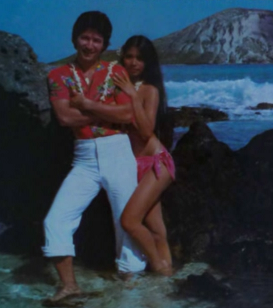 The set opens with a number from Barry's 1980 eponymously titled LP Barry Kim. "This Is Love" is indicative of the flavor of Waikiki showroom entertainment in the 1970s and 80s. But while the Barry Kim LP is a departure from the usual Hawaiian standard repertoire, on his earlier 1970s LP entitled Hawaiian Favorites, Kim gives this same treatment to a half-dozen or so Hawaiian classics – from "Blue Hawaii" to "Beyond The Reef." He also tackles a few modern classics. This may be where the LP falls short – even for its era – since those modern classics were already classics – the originals of which really could not be topped. For example, written by Marcus Schutte, Jr. and arranged by the composer for Gabe Kila & The Nanakuli Sons, the original version of "Paniolo Country" – which renounces the industrialization of the islands and extols the virtues of Hawai`i country living – opens with the mooing of cows and the strains of a banjo. It segues into a more modern 70s beat, but there is a hoedown breakdown in the middle section. By comparison, when you listen to Barry Kim's disco-ized version, you realize that it may be an appropriate setting for the lyrics since the synthesizers, effects-laden electric guitars, and drum machines Kim utilized fly in the face of the song's message about getting back to something simpler. But such was the sound that Waikiki entertainers had to embrace in order to be commercially viable for mainland audiences.
But I could say the same of countless acts of the 1970s and 80s. Short of the Kodak Hula Show, this was an era in which it was difficult to find Hawaiian music in Hawai`i. Or, perhaps more appropriately, the pendulum of tastes in local music swung so wildly in one direction that it practically snapped before finding a happy medium.
Next time: A few better versions of "Paniolo Country"… More of the history of the entertainers who graced the many stages of the Hilton Hawaiian Village Hotel… And where is the "Hawaiian music renaissance" that has been written about?…
---