Tue, 4 November 2014
Na Keonimana
In the early 1970s, four gentlemen united with the goal of taking Hawaiian folk music in new exciting directions. This was, of course, the goal of many music groups in that era – at least those comprised of up-and-coming teens and twenty-somethings. But this quartet succeeded in accomplishing something truly special. Yet surprisingly they remain underrated (by some) if not altogether forgotten (by most). Despite the whole being greater than the sum of its parts, this was a group comprised of some pretty good parts – most of whom went on to amazing careers in their own right.
John Kekuku was a singer with a way with an `ukulele. Keli`i Taua was a budding songwriter who could also sing and play guitar. Mike Ka`awa, already a veteran of the Hawaiian music scene having led his own trio as well as participating in the group Anuenue (with Moe Keale, Imaikalani Young, and Paul Martinez), chose the 12-string guitar with which to express himself. Together, under the leadership of bass player and singer Allen Pokipala, the group known as Na Keonimana (Hawaiian for "the gentlemen") were opening for Iva Kinimaka in the Garden Bar of the Hilton Hawaiian Village Hotel in 1974. And together they were among the many forces forging a new sound for a new era in Hawai`i.
Their debut album would not appear until two years later. Entitled Hoihoi (Hawaiian meaning "entertaining," "amusing," "happy," or "joyful"), the LP offers up a combination of traditional Hawaiian classics and five brand new Keli`i Taua compositions. Remember this was in an era when few spoke the Hawaiian language, so most groups of this time period were performing "covers" of songs written decades before. But Taua was actively adding to the canon of Hawaiian-language compositions – making Na Keonimana rare from the words hele aku. But they also managed to tastefully (and "tastefully" is the operative word here) combine the traditional Hawaiian songs of decades earlier with new and exciting rhythms and the instrumentation of the modern Hawaiian folk music scene. Their sound was in many ways like what other groups were attempting, and yet it was somehow different. And the intangible ways in which it was different would soon become tangible with a second album and the imitators that would follow. Regrettably, the imitators (or apostles – however you wish to look at it) would become more famous than their predecessor, and Na Keonimana would fade into obscurity. But, arguably, certain other recording projects that are considered by most fans of Hawaiian music to be culturally and historically significant might never have come to fruition if Na Keonimana had not come together first.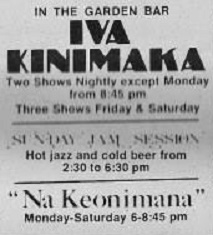 Most of the members of the group would go on to tremendous successes apart that perhaps they might not have achieved together. Keli`i Taua became a prolific songwriter whose songs were covered by everybody from the Brothers Cazimero to Sean Naau`ao. He also did several solo LPs which artfully combined his contemporary compositional style with his expertise in ancient chant (paving the way for others such as Tony Conjugacion and Mark Keali`i Ho`omalu). Allen Pokipala became radio personality Bruddah Poki (remember "Poki In Da Pala?") who discussed Hawaiian music and culture every week on his KPOA program. And, of course, Mike Ka`awa's successes are too numerous to mention – ranging from his collaborations with Dennis Kamakahi and Ledward Kaapana to his tenure with Eddie Kamae's last incarnation of the Sons of Hawai`i.
Hoihoi lived up to its title as exceedingly enjoyable. But if there was any shortcoming of this debut LP, it may be that it was too happy. The 70s were a troubling time for the world and for Hawai`i, in particular, as it came to grips with statehood and the struggle to maintain a cultural identity. Maybe Hawai`i needed a dose of happy in that moment in time, but it would have been more historically accurate if the album had exhibited the schizophrenic nature of the decade – sometimes elated, sometimes brooding. It would be Na Keonimana's follow-up LP that would more appropriately reflect the times and the mood of the Hawaiian people, and for that reason I consider it a classic which should be explored in depth.
Next time: Na Keonimana's second – and final – LP is one for the ages… Plus the album that is considered a classic which might not have been possible had Keli`i Taua and Mike Ka`awa never combined their creative forces…
Trivia: Na Keonimana would not live in obscurity forever. When the group was elevated to a headliner, who was their not-yet-famous opening act?
---