Thu, 28 August 2014
Sonny Swings HWAK
I had always loved Hawaiian music. And so I loved the idea of Hawai`i despite that I had never been there. I had only learned about Hawai`i through books, magazines, television and movies, and – of course – the music. So when I landed at Honolulu International Airport on October 2, 2000 – my thirtieth birthday – I had a few destinations in mind as soon as I threw my bags in my hotel room at a 1-star hotel (my first mistake) in Waikiki (my second mistake). My then wife – tired from the nearly 11-hour flight – simply wanted to crash. But who knew if I would ever get back to Hawai`i? But this was not only my birthday; it was also the first day of our honeymoon. So we engaged in our first marital dispute. I was going out – with or without her. I did not come to Hawai`i to sleep. And I told my wife that if she came along, she was in for a treat and that it was only a four-block walk away. And with that, I officially won our first argument, and we set out for the Halekulani Hotel.
The short walk led to the paradise I had read and heard about. A quintessential "must see" for the first time Hawai`i tourist is sunset at the Halekulani's "House Without A Key" (so named for the first Charlie Chan novel written by Earl Derr Biggers, a 1925 first edition copy of which sits on the end table beside me as I write this). But it is not merely the sunset. It's the view of Diamond Head just beyond your view of the Royal Hawaiian and Moana Hotels – a Waikiki the way it used to be. It is the Halekulani Iced Tea complete with generous sliver of sugar cane to be used as a stirrer. It is the sheer elegance and the service to match. It is the hundreds of years old kiawe tree under which resides the barely raised bandstand. And it is the musicians who grace the bandstand seven nights a week – Hawai`i's finest – and the stalwarts of the hula who join them, such legends as Debbie Nakanelua Richards and Kanoe Miller both of whose grace are unparalleled and beauty timeless in a way that redefines the word "timeless." On this particular evening – as I knew would be the case from reading Hawai`i Magazine and the Honolulu Star-Bulletin – I knew I would find The Islanders – Alan Akaka, Kaipo Asing, and Sonny Kamahele. And it is now – as it has always been – the music that makes the House Without A Key a uniquely Hawaiian experience worthy of Frommers.
This was the first of many evenings at sunset spent at (what the local musicians affectionately refer to as) HWAK. And was it ever memorable. I had known Alan – at least virtually, which in that era meant by mail with paper, stamps, the works – since 1994. But I finally got to meet my friend in the flesh – a friendship that has endured now for 20 years. But it was meeting Sonny that completely blew me away. We chatted between sets and then again for more than two hours after the final number. My then new wife was probably livid with me as 10:30pm HST would have been 3:30am EDT, by which time we were already up for more than 24 hours. But I was living the dream, and I wondered if such a night could ever happen again. (It would, but I did not have the prescience to believe that it could.) Sonny regaled me with stories about the musicians I admired but who left us long before I had ever arrived in Hawai`i – Lena Machado, Haunani Kahalewai, Alfred Apaka, Barney Isaacs, Jules Ah See, and, of course, his good friend (and verbal sparring partner) Benny Kalama. And we sang together, of course. That is what musicians do when they get together – formally or informally. But I never thought that could happen to me.
(The clip you are listening to right now is from that evening. I would respectfully ask that we defer any debate about how such an illicit recording came into my possession or the ethics around whether or not it should be shared. I would retort by directing you to YouTube where such illicitly made recordings now number in the tens of millions. If you do not understand and subscribe to Ho`olohe Hou's mission by now, then let me begin again. I aim to preserve the music and artists of Hawai`i that might otherwise be forgotten. And sometimes this might mean rolling out something from my vast archives that was not commercially released. In this case, there is no other way to experience an evening at the Halekulani – if you have never made it there in the flesh – than a recording such as this. While there will be those who will be angry at me for taking, keeping, and sharing recordings that were not commercially released, there will hopefully be many more who will be grateful for these archival efforts.)
And here is just a snippet of what we heard that lovely evening in 2000…
Sonny opens the first medley with the staple "Henehene Kou Aka (For You and I)." Notice that when Sonny sings the solo choruses, he is singing in his usual full baritone, but on the repeat choruses where everybody chimes in on vocals, Sonny jumps an octave to sing the lead in his lovely falsetto. Kaipo then takes the lead vocal on "Hanohano Hawai`i" during which Alan takes a chord melody solo on the steel which prompts me again – for the second time today – to state emphatically how much like Jake Keli`ikoa he can tend to play at times, a sound that much deserves to be perpetuated, and it is in the capable hands of kumu Alan. He also closes the medley by singing one of his favorites, "I'm Going To Maui Tomorrow," a novelty number written surprisingly by comedian Bill Dana (who created the persona of José Jiménez) who once had a stage show in Waikiki.
The next medley again features Sonny's falsetto – first on the Alvin Kaleolani Isaacs chestnut "Aloha Nui Ku`uipo," and then on the hapa-haole classic "For You A Lei." Performances at the Halekulani can be very fluid – comprised of long medleys, largely unplanned, just singing songs as they pop into the heads of the singers, everyone on stage taking a turn, constantly changing keys… During this medley, you hear Alan suggest that Sonny sing "For You A Lei" as he witnesses a uniquely Hawaiian moment – the giving of a lei. And as can only happen in Hawai`i – which I now understand is the center of the universe, not merely the crossroads of the Pacific – the giver of the lei was none other than Ben Chapman of Creature From The Black Lagoon fame.
The set closes with still another medley. The group does a number sometimes entitled "Hoe Hoe" (or "Sam Koki's "Hukilau"), followed by Alan singing another Alvin Isaacs song, "E Mau" (which speaks of the importance of perpetuating Hawaiian things), and finally one of Andy Cummings' many swingers, "Tropical Swing." Listen to Sonny's rhythm guitar work and his high harmony in falsetto in this last medley – recreating the critically important role he played with both the Hawaiian Village Serenaders and the Hawaii Calls orchestra and chorus.
I hope you enjoy this music that might otherwise have been lost, and I hope you enjoyed another glimpse into the life and career of Sonny Kamahele who – as you can hear – was amazing to the very end.
---
Thu, 28 August 2014
Sonny Kamahele
Google "Sonny Kamahele" and the first search result is indeed an oddity. In an entry on "The Best Luxury Hotels on Oahu," the online version of Frommers travel guide is quick to point out that although most cannot afford to stay at the "money is no object" Halekulani Hotel, one must still drop by some evening at sunset and sip a mai tai at the House Without A Key while Sonny Kamahele serenades them.
Uncle Sonny left us more than 10 years ago now. This Frommers entry then either speaks to the editors' inattentiveness or the seeming invincibility of the gentleman with arguably the longest career in Hawaiian music show business. Who ever thought the immortal Sonny Kamahele could ever die? Certainly not me.
Solomon "Sonny" Kamahele was born August 28, 1921 in Honolulu, Hawai`i. I don't even know how to describe adequately the career of someone who – in a more than 60 year career as a singer, multi-instrumentalist, bandleader, and arranger – literally and figuratively "did it all." Sonny's was no doubt one of the most illustrious careers in the history of Hawaiian music. But a few highlights…
Sonny broke into show biz at the age of 19 with his father's orchestra performing at the two hottest, swingingest night spots in Waikiki of the 1930s and 40s – the Moana Surfrider and the Royal Hawaiian Hotel. By 1948 he headed off to perform at Hollywood's purveyor of Hawaiian culture, the now famous Seven Seas Supper Club, in a show led by Sam Koki. During this same period, Sonny was doing studio and TV work, performing in the Harry Owens' Orchestra for his then popular TV show which was naturally produced in Hollywood. Sonny stayed on the mainland nearly a decade, but by 1956 he returned to his home in Hawai`i where one with his immense talents would no doubt immediately find work with a group that would become legendary not only for its all-star members, but also for the company it kept. Benny Kalama enlisted Sonny for a group he was leading called the Hawaiian Village Serenaders, so named for the Hawaiian Village Hotel where the group was performing sometimes twice nightly backing legends of Hawaiian entertainment such as Alfred Apaka and Hilo Hattie. Throughout the 1960s Sonny led his own group at this same hotel's Surf Room. And at the same time as all of these other 60s engagements, Sonny was also an in demand studio musician who appeared on more recordings than one can count (often uncredited except to those who recognize his guitar playing or his voice), and he was a critically important member of the Hawaii Calls radio program's orchestra and chorus – lending his guitar and voice for both the radio and (short lived) TV versions of the program as well as on innumerable recordings which found their way around the world courtesy of the shameless promotion of Capitol Records.
And, oh, that voice! Sonny's gorgeous pipes ranged from the highest, sweetest falsetto you have ever heard down to his lowest basso profundo which he used to great effect on the Hawaii Calls novelty numbers. And he was the last of a rare breed of rhythm guitarists who played in the real old style – part guitarist, part drummer, heavy on the syncopation, an upstroke as well as a downstroke with the pick. (Today's Hawaiian rhythm guitarists do not value the upstroke highly enough, I fear.) And many may have already forgotten that Sonny was handy with a steel guitar, as well – mastering the seldom used D9th tuning.
I knew Sonny personally from the final period of his career which he spent at the Halekulani Hotel's famed House Without A Key. I used to go listen to him play with The Islanders, a group led by steel guitarist Alan Akaka, at the venue local musicians once referred to affectionately as "HWAK" where they performed for nearly 20 years from September 1983 until Sonny's retirement in August 2003.
We lost Sonny much too soon in February 2004. He was only 82 years old. Like Frommers, I thought Sonny would live forever. But do the math. He passed away less than six months after retiring. He and his wife had just built a house on the Big Island. He never had an opportunity to enjoy it. He gave the best years of his life to the music.
Sonny left us a legacy of hundreds of recordings. You would be hard pressed to find the best of these in the digital era. Only his final few solo albums were released in CD format. Sonny's recorded work as a leader in the 1960s remains out of print, as do the many recordings with the Hawaiian Village Serenaders. And on others still Sonny languished in obscurity as the liner notes of the recordings on which he fulfilled that one-time studio need – on guitar, `ukulele, or bass – rarely credited the sidemen if they were not part of the featured artist's regular working group. Because Sonny could do everything, I wanted to feature some recordings that showcase the best of everything Sonny was and continues to be the epitome of to so many of us. You will hear a little of everything Sonny did here – his rhythm guitar, his steel guitar, and – especially – the voice in all of its incarnations.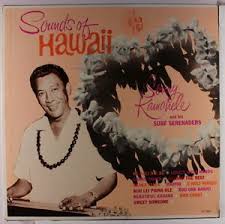 "Ku`u One Hanau" was written by Sonny's father, Sol Kamahele Sr. The ironically titled 1960s LP release, Sounds of Hawaii was one of the first on the then burgeoning Sounds of Hawaii label. And you hear Sonny's lilting falsetto on this selection. This album remains out of print.
The Alfred Alohikea composition "Ka Ua Loku" is from another Sounds of Hawaii release, Say A Sweet Aloha which also remains out of print.
"Ta-ha-ua-la," an Alvin Kaleolani Isaacs composition, is from the first release by Alan Akaka and The Islanders, How D'Ya Do. The recording largely featured the same working group that was appearing nightly at the Halekulani Hotel during this period. Modeled on supergroups like the Hawaiian Village Serenaders, The Islanders could be a different group on any given night but would always feature elder statesmen of Hawaiian music like Benny Kalama, Walter Mo`okini, Harold Haku`ole, Merle Kekuku, and – of course – Sonny. The youngest lions among the group were Kaipo Asing and the leader, Alan Akaka. But Alan was immediately accepted by the legends as he was one of a handful of young men in this time period (the late 1970s/early 1980s) who had not only taken up the steel guitar, but who chose to play it in the real old style. Despite being taught by the man who is arguably considered the master of the instrument, Jerry Byrd, Alan's style is more reminiscent of the jazzy steelers of the 1940s and 50s. When I listen to Alan, I hear echoes of Tommy Castro, Steppy de Rego, Jake Keli`ikoa, and Jules Ah See. It has been many years since this recording was made, and Alan is now a legend himself. It was inevitable.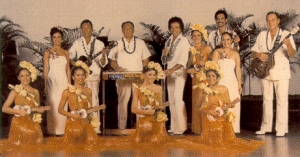 Gary Aiko's golden baritone takes the lead on the next number which was arranged by Sonny for the Hawaiian Revue at the Coconut Grove Night Club, a revue (photo below) which recreated the sights and sounds of Hawaiian music in the 1920s and 30s – an experience Sonny was uniquely qualified to reproduce since he had been a part of that era, playing in the larger dance bands that would have been featured at the Moana and Royal Hawaiian Hotel as well as in the orchestra led by Harry Owens. Sonny created such arrangements as you hear here in the style of that era. I chose to spin "The Cockeyed Mayor of Kaunakakai," which we can imagine in performance was accompanied by a comic hula.
"Halekulani" – one of Sonny's last recordings – is a testament to Sonny's various abilities since he not only wrote the song for his musical home at the Halekulani Hotel, but he also performed all of the instruments you hear except the bass (which was handled by his stepson, King Kamahele). This means that is Sonny's beautiful steel guitar work you are hearing.
Taken from the same CD as "Halekulani," the 1996 release Beautiful Hawai`i, Sonny accompanies himself again on steel guitar (in that D9th tuning) on "Sleep Little Baby" which was composed by Sonny's musical partner in Hollywood, Sam Koki, who wrote the song for his son. It is a fitting tribute to Sonny as it was the last song he ever heard. Amy Hanaiali`i sang it to Sonny over the phone in the minutes just before he passed away.
I miss Sonny in as many ways as he had talents. I not only miss his music, I miss his spirit and his kolohe nature. Unlike some of the other relationships I have had the privilege of forging with Hawaiian music legends, it would be disingenuous of me to call Sonny my "friend." We didn't know each other well enough. But we shared many a lovely evening after his performances at HWAK, sitting under the kiawe tree hours after the gig ended until Halekulani staff ultimately had to kick us out or sweep around us. He regaled me with stories of a Hawai`i – and a Hawaiian music scene – that I will never knew. Sonny was my hero, but he also personally knew so many of my other heroes that he was my "one degree of separation." Despite being a legend, Sonny was a most unassuming presence – dressing to the nines in the all-white uniform he himself conceived of for the Halekulani gig (and which the bands which came after still wear to this day), but playing a vintage Gibson archtop so ravaged by time that it was held together with duct tape. And that pretty much sums up the Sonny I will always remember.
- Bill Wynne
---