Tue, 4 November 2014
Na Keonimana
In the early 1970s, four gentlemen united with the goal of taking Hawaiian folk music in new exciting directions. This was, of course, the goal of many music groups in that era – at least those comprised of up-and-coming teens and twenty-somethings. But this quartet succeeded in accomplishing something truly special. Yet surprisingly they remain underrated (by some) if not altogether forgotten (by most). Despite the whole being greater than the sum of its parts, this was a group comprised of some pretty good parts – most of whom went on to amazing careers in their own right.
John Kekuku was a singer with a way with an `ukulele. Keli`i Taua was a budding songwriter who could also sing and play guitar. Mike Ka`awa, already a veteran of the Hawaiian music scene having led his own trio as well as participating in the group Anuenue (with Moe Keale, Imaikalani Young, and Paul Martinez), chose the 12-string guitar with which to express himself. Together, under the leadership of bass player and singer Allen Pokipala, the group known as Na Keonimana (Hawaiian for "the gentlemen") were opening for Iva Kinimaka in the Garden Bar of the Hilton Hawaiian Village Hotel in 1974. And together they were among the many forces forging a new sound for a new era in Hawai`i.
Their debut album would not appear until two years later. Entitled Hoihoi (Hawaiian meaning "entertaining," "amusing," "happy," or "joyful"), the LP offers up a combination of traditional Hawaiian classics and five brand new Keli`i Taua compositions. Remember this was in an era when few spoke the Hawaiian language, so most groups of this time period were performing "covers" of songs written decades before. But Taua was actively adding to the canon of Hawaiian-language compositions – making Na Keonimana rare from the words hele aku. But they also managed to tastefully (and "tastefully" is the operative word here) combine the traditional Hawaiian songs of decades earlier with new and exciting rhythms and the instrumentation of the modern Hawaiian folk music scene. Their sound was in many ways like what other groups were attempting, and yet it was somehow different. And the intangible ways in which it was different would soon become tangible with a second album and the imitators that would follow. Regrettably, the imitators (or apostles – however you wish to look at it) would become more famous than their predecessor, and Na Keonimana would fade into obscurity. But, arguably, certain other recording projects that are considered by most fans of Hawaiian music to be culturally and historically significant might never have come to fruition if Na Keonimana had not come together first.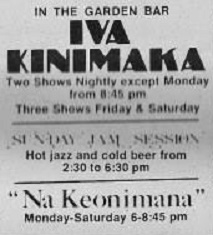 Most of the members of the group would go on to tremendous successes apart that perhaps they might not have achieved together. Keli`i Taua became a prolific songwriter whose songs were covered by everybody from the Brothers Cazimero to Sean Naau`ao. He also did several solo LPs which artfully combined his contemporary compositional style with his expertise in ancient chant (paving the way for others such as Tony Conjugacion and Mark Keali`i Ho`omalu). Allen Pokipala became radio personality Bruddah Poki (remember "Poki In Da Pala?") who discussed Hawaiian music and culture every week on his KPOA program. And, of course, Mike Ka`awa's successes are too numerous to mention – ranging from his collaborations with Dennis Kamakahi and Ledward Kaapana to his tenure with Eddie Kamae's last incarnation of the Sons of Hawai`i.
Hoihoi lived up to its title as exceedingly enjoyable. But if there was any shortcoming of this debut LP, it may be that it was too happy. The 70s were a troubling time for the world and for Hawai`i, in particular, as it came to grips with statehood and the struggle to maintain a cultural identity. Maybe Hawai`i needed a dose of happy in that moment in time, but it would have been more historically accurate if the album had exhibited the schizophrenic nature of the decade – sometimes elated, sometimes brooding. It would be Na Keonimana's follow-up LP that would more appropriately reflect the times and the mood of the Hawaiian people, and for that reason I consider it a classic which should be explored in depth.
Next time: Na Keonimana's second – and final – LP is one for the ages… Plus the album that is considered a classic which might not have been possible had Keli`i Taua and Mike Ka`awa never combined their creative forces…
Trivia: Na Keonimana would not live in obscurity forever. When the group was elevated to a headliner, who was their not-yet-famous opening act?
---
Tue, 4 November 2014
Brickwood Galuteria
He was an account executive and tour director for Hawaiian Airlines. Then he was a radio personality for KCCN 1420AM, KCCN FM100, and Hawaiian 105 KINE. He served as chairman for the Democratic Party of Hawai`i in 2004. Then for a very short while he was a consultant. Then he became the Hawai`i State Senator representing Waikiki, Ala Moana, Kaka`ako, McCully, and Mo`ili`ili.
And somewhere in between he was a professional musician and singer. And, I mean, a really mean guitar player and a damned good singer. So good, in fact, most of us have forgotten that Brickwood Galuteria won the Nā Hōkū Hanohano Award for Male Vocalist of the Year in 1985 for his LP entitled Brickwood Style.
Having attended Kamehameha Schools (where music is a staple of the curriculum and which is famed for its annual song contest), and being son of a renown contralto and nephew to none other than Richard Kauhi (arguably the most revolutionary musician in the history of Hawai`i, infamous for blending Hawaiian music with jazz and R&B), it was inevitable that Brickwood would at least have an avocation in music. But for a while it was his (as they say in the music business) full-time gig. Galuteria up and quit the comfort of Hawaiian Airlines and struck out as a professional musician – performing at the Royal Hawaiian Hotel for three years with the venerable Marlene Sai before forming his own group, No`eau. Then in 1985 he self-produced his first – and still only – full-length LP with the assistance of such fine musicians as Paul Martinez on `ukulele, Sean Naleimaile on bass, Dean Slocum on keyboard, Kahale Moore on percussion, Bruce Hamada on drum programming, and the vocal arrangements of Imaikalani Young.
And the record truly was a winner – not merely at the Hōkū Awards – for it held in store something for every type of fan. It offered traditional Hawaiian standards in the Hawaiian language as well as slightly more modern fare including one original from Brickwood's own pen. The set opens with the original, "Sommer Girl," which Brick wrote for his then five-year old daughter. (The keyboards and drum machine are our clues that this was definitely recorded in the 80s.) Then the group rips through slightly more traditional numbers arranged in the jazzy style of Uncle Richard Kauhi – "Kuwili" and "A`oia" – on which Brickwood shows off his guitar work and where you can also really appreciate Imaikalani's vocal arrangements.
I have a special place in my heart for Senator Galuteria… When I first participated in the Aloha Festivals Falsetto Contest in 2003, they decided that year that each contestant would have their own celebrity announcer to read their bio and introductions. And mine was Brickwood. I think I made an impression on him since every time after when I competed again, Brickwood would give a shout out and "good luck" to the "guy from New Jersey" on his morning drive radio program. It is with tremendous pleasure that I resurrect this classic recording from one of the classiest guys I know.
---
Tue, 4 November 2014
A Brief Election Day Message
From his 1982 classic Honk If You Love George, voice talent Billy Sage makes a commentary on Election Day madness that is as true today as it was 30 years ago.
More about the brilliance of Billy Sage and comedy in Hawai`i in the 1970s and 80s soon at Ho`olohe Hou…
---
Tue, 4 November 2014
Hula (No Flash Necessary)
In the 1930s (just as it remains today), most tourist lu`au took place in the evening – commencing at sunset in order to maximize the romanticism of an island paradise. Fascinated tourists snapped picture after picture of the show – the myriad musicians and hula dancers – only to develop the film and discover nothing more than a purple-hazed blur. The combination of the low light of evening and primitive cameras made it impossible in that era for tourists to capture some of the most unique things about a visit to Hawai`i.
In the midst of the Great Depression, then vice-president and manager of Kodak Hawaii, Fritz Herman, hatched a plan. He enlisted Louise Akeo Silva to launch a daytime hula show on the lawn behind San Souci Beach – across from Kapi`olani Park, near the Waikiki Shell concert hall, close enough to Waikiki for the least energetic tourist to make the walk. A daytime hula show would allow tourists to return home happily with crystal-clear photos of swaying hips and the flourish of the feathered uli uli – all exceedingly adequately lit by Father Sun. But Herman had only one purpose in mind: To sell film.
When the show opened in 1937, it featured five dancers, four musicians, and an audience of only 100 tourists. But at its peak, the show presented as many as 20 female and six male hula dancers, 15 musicians, and two chanters and played to as many as 3,000 tourists each week. (Many of the cast of musicians and dancers were members of the Royal Hawaiian Girls Glee Club.) During its 65-year run, the Kodak Hula Show entertained and educated more than 17 million visitors.
Over the years many in the Hawaiian music and hula community accused the Kodak Hula Show of pandering to the tourists with a preponderance of hapa-haole music (songs about Hawaiian people, places, and ideals but sung in the English language). But in its time, the show was an as authentic as possible representation of traditional Hawaiian music and hula as could be found in post-statehood Hawai`i when – as we have heard elsewhere at Ho`olohe Hou ­– Hawaiian music was evolving to incorporate such foreign influences as rock, jazz, R&B, and – a few years later – even disco and reggae. So despite that this was merely a haole gimmick to make money off of the Hawaiian people and their unique culture, the Kodak Hula Show represents an important bridge from the music and dance of Hawai`i's past and present. It withstood all of the changes and influences that took hold of the acts up and down the Waikiki strip and remained true to its roots. And in some ways tradition won as the kind of music presented at the Kodak Hula Show during this tumultuous period is being performed again by some of the most popular acts in Hawai`i.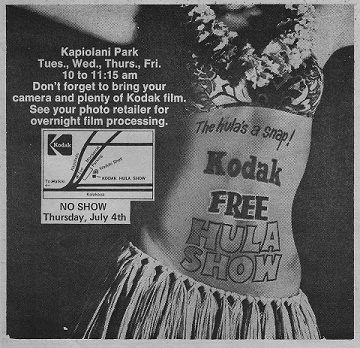 Everything old is new again.
Listen to this set list… It is clearly aimed at teaching tourists something about Hawaiian culture – even if its corporate producers didn't care – as it is filled with standards of the hula (and one Tahitian otea, or drum dance). The set opens with "Ula No Weo" which, in the words of kumu hula and ethnomusicologist Amy Ku`uleialoha Stillman, was used by the Kodak Hula Show over its many years as a "cornerstone mele to demonstrate ancient Hawaiian dancing." "Hanohano Hanalei" was likely used to demonstrate the use of the uli uli, a small, hollowed out gourd decorated with feathers and used as an implement in the hula. Then there is "Ho`onanea" (a more modern hula at the time, discussed here at length recently when Ho`olohe Hou celebrated the birthday of its venerable composer, Lena Machado) followed by "Kawika," formerly a chant honoring King David Kalākaua but here taken in the more modern auana hula style with guitars, `ukulele, and even steel guitar. And they managed to cram all of that education into five minutes! I chose these songs specifically to demonstrate that the notion of the show being "too touristy" was merely a perception since the set list for the typical Kodak Hula Show elucidates that there were more Hawaiian-language song selections than hapa-haole.
The music heard here is from a record largely geared toward tourists. Although Music from the Kodak Hula Show was not recorded live during the show, it does feature the same musicians who worked the show daily throughout the 1960s. It would be nice, though, to see the Kodak Hula Show one more time for the music is nothing without the hula.
Next time: A tourist captures a few minutes of the Kodak Hula Show for posterity… But where was the rest of the traditional Hawaiian music in Waikiki in the 1970s?… And what happened to "Kawika" when a new generation of Hawai`i's musicians got a hold of it…
Trivia: What veteran of the Hawaiian entertainment scene of the mid-20th century was a regular cast member of the Kodak Hula Show almost from its very beginning in the 1930s? (Difficulty Rating: Easy if you have Google.)
---