Wed, 5 November 2014
Zulu Swings Waikiki
Zulu Kauhi is where my two seemingly disparate series of articles – one on entertainers who got their start at Honey's in Kane`ohe in the 1960s, and another on entertainers performing in Waikiki the week of July 4, 1974 (according to that week's issue of the Hawaii Tourist News) - intersect…
Gilbert Francis Lani Damian Kauhi was born in Rainbow Falls, Hilo, on the island of Hawai`i, on October 17, 1937. He was three-quarters Hawaiian and one-quarter English (courtesy of a grandfather from Michigan). Explaining his unusual nickname, his mother assured an interviewer that she sent her son off to school with his hair neatly combed but that it would become disheveled at football practice. Since he and his teammates were studying the Zulu – a Bantu ethnic group of Southern Africa – in a social studies class, his buddies likened Gilbert's hair to that of these African natives. They nicknamed him "Zulu" – a moniker which he stuck with (or one of several variants such as "Zoulou," which he claimed was the French Tahitian spelling) throughout his career.
Zulu and his family moved to Honolulu where he became one of the noted Waikiki beach boys – giving surfing lessons and outrigger canoe rides to tourists. There are conflicting accounts of Zulu's schooling – several indicating that he attended the prestigious Kamehameha Schools, and others stating that he attended Saint Louis School in Kaimuki but dropped out after the 10th grade and worked in construction before serving four years in the U.S. Coast Guard. But formal schooling anywhere likely would not have changed Zulu's destiny. A natural musician and comedian, Zulu and his buddies formed a group called "Zulu and The Polynesians" which performed at parties for "all of the food they could eat." Later he formed a Polynesian revue which toured Japan and entertained on cruise ships.
Throughout the 1960s Zulu's entertainment career unfolded slowly but carefully. He appeared in numerous Hollywood productions based in Hawai`i, starting with the Hawaiian Eye TV show in 1959, followed by the films Gidget Goes Hawaiian (1961), Diamond Head (1962), Rampage (1963), and Hawaii (1966). He also worked as disc jockey at radio station KHVH and was appearing nightly at a club called Honey's in Kane`ohe – a breeding ground for a raft of future superstars in Hawaiian entertainment, recruited by the owner's son, a still then virtually unknown Don Ho. When Ho hit the big time and moved his act to Duke Kahanamoku's at the International Marketplace in Waikiki, Zulu started another band, "Zulu and the Seven Sons of Hawaii," which – despite that Zulu could sing in five languages – performed primarily Hawaiian music.
Zulu's big break finally came in 1968 when he went to a cattle call audition for a new CBS detective series to be filmed in Hawai`i and quite unexpectedly landed the role of Kono Kalakaua on Hawaii Five-0. The role was perfect for the large and occasionally acerbic Hawaiian who could say more with a look or a head butt than with words. But it was – at least, anecdotally – words he would exchange often with series star Jack Lord that got Zulu fired from Five-O in 1972 after only four seasons.
Zulu continued appearing in films and television shows such as Magnum, P.I., Charlie's Angels, Midnight Special, The Glen Campbell Show, The Brian Keith Show, and Roger That. But it didn't matter how much film or television work rolled Zulu's way. Hawaii Five-0 was Zulu's launch pad into a successful career as a showroom headliner – singer, comedian, or both – in and around Honolulu which included first a stint at Duke Kahanamoku's (after his former boss Ho's departure) and then an unprecedented (except, perhaps, for Ho) five-year, $2.5 million contract with the C'est Si Bon Showroom in the Pagoda Hotel & Restaurant.
As there are no known live recordings of Zulu in 1974 when he was headlining at Duke Kahanamoku's at the International Marketplace (a coveted seat vacated by his former boss, Don Ho), I thought it would be interesting to revisit the earliest part of Zulu's career and his start with Ho at Honey's in the early 1960s. As you have already read here, Flip McDiarmid captured some of this magic when he visited Honey's Waikiki one evening with a portable tape recorder. Regardless of the genesis of these recordings or the motivations behind them, nobody can deny that McDiarmid captured an important moment in Hawaiian music history – including a pre-fame Zulu Kauhi. In this set you hear Zulu lead the Honey's pack first on the comic "Coed Song" and then a romp through Charles E. King's "Ne`ene`e Mai A Pili." But you're hearing something else as well. You should be able to hear some other future legends we've already discussed in the mix here: Assisting Zulu here are Kui Lee (the high voice in the vocal group), the voice and guitar of slack key legend Sonny Chillingworth, and the voice and `ukulele of Alvin Okami (now best known as the proprietor of the KoAloha `Ukulele company).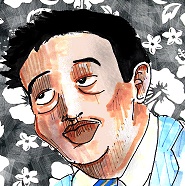 After a series of legal and health woes, Zulu passed away on May 3, 2004 at the age of 66. He will always be remembered as the wise-cracking, face-stuffing Kono Kalakaua. But I thought we would take this opportunity to remember the exciting stage presence and the beautiful voice that Zulu possessed – perhaps the greater of his gifts than his acting talents.
Although there are many wonderful pictures of Zulu in circulation, I chose instead this amazing caricature by artist and Hawaii Five-O fan Josh Pincus. Visit Josh's website for more of his amazing creations.
Next time: Zulu reunites with old boss Don Ho for a rare moment on TV… And the 70s showmen who could rival Zulu and Iva Kinimaka…
---
Wed, 5 November 2014
Barry Kim at the Long House
According to the Hawaii Tourist News "Entertainment" section for the week of July 4, 1974, along with Iva Kinimaka and Na Keonimana, the Hilton Hawaiian Village was also serving up the contemporary sounds of Barry Kim.
Barry Kim's music followed a similar template as other performers of the era – characterized by synthesizers, drum machines, and the rhythms of the disco age. This was not music for the locals. This was music clearly aimed at the tourists, which is why artists like Barry Kim and Iva Kinimaka could survive the lounges and showrooms in Waikiki in this era.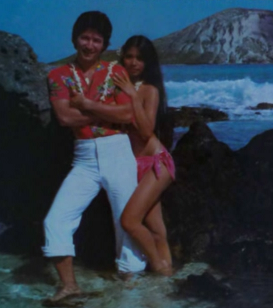 The set opens with a number from Barry's 1980 eponymously titled LP Barry Kim. "This Is Love" is indicative of the flavor of Waikiki showroom entertainment in the 1970s and 80s. But while the Barry Kim LP is a departure from the usual Hawaiian standard repertoire, on his earlier 1970s LP entitled Hawaiian Favorites, Kim gives this same treatment to a half-dozen or so Hawaiian classics – from "Blue Hawaii" to "Beyond The Reef." He also tackles a few modern classics. This may be where the LP falls short – even for its era – since those modern classics were already classics – the originals of which really could not be topped. For example, written by Marcus Schutte, Jr. and arranged by the composer for Gabe Kila & The Nanakuli Sons, the original version of "Paniolo Country" – which renounces the industrialization of the islands and extols the virtues of Hawai`i country living – opens with the mooing of cows and the strains of a banjo. It segues into a more modern 70s beat, but there is a hoedown breakdown in the middle section. By comparison, when you listen to Barry Kim's disco-ized version, you realize that it may be an appropriate setting for the lyrics since the synthesizers, effects-laden electric guitars, and drum machines Kim utilized fly in the face of the song's message about getting back to something simpler. But such was the sound that Waikiki entertainers had to embrace in order to be commercially viable for mainland audiences.
But I could say the same of countless acts of the 1970s and 80s. Short of the Kodak Hula Show, this was an era in which it was difficult to find Hawaiian music in Hawai`i. Or, perhaps more appropriately, the pendulum of tastes in local music swung so wildly in one direction that it practically snapped before finding a happy medium.
Next time: A few better versions of "Paniolo Country"… More of the history of the entertainers who graced the many stages of the Hilton Hawaiian Village Hotel… And where is the "Hawaiian music renaissance" that has been written about?…
---